TEAMSTERS LOCAL 17 EXECUTIVE BOARD
---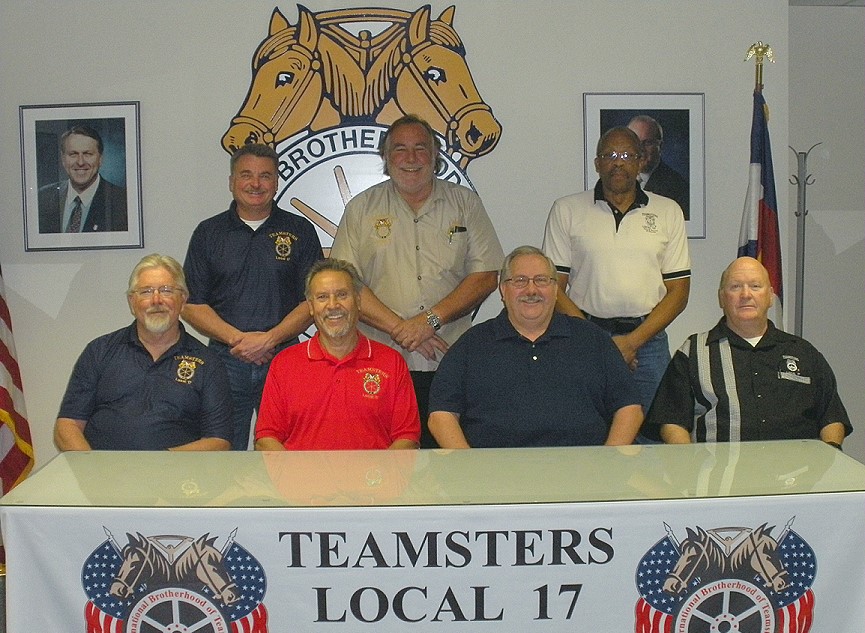 ---
Duane joined Teamsters Local 17 in 1987 when he was hired as a driver at Yellow Freight in Denver. He became a Union Steward in 1991, was elected as a Trustee at Local 17 in 1995, he went to work as a full time Buiness Agent in 1996, was elected President of Local 17 in 2001, and was then elected Secretary Treasurer and Principal Officer of Local 17 in 2016.
He has been elected as a Delegate to the International Brotherhood of Teamsters Conventions in 1996, 2001, 2002, 2006, 2011, and 2016.
Serving as a Co-Chair of the UPS Rocky Mountain Joint State Grievance Committee, has served as a chair of the Wisconsin Area Panel Grievance Committee, is a member of the UPS Freight Central Region and National Grievance Committees, and sits on UPS Package Central Region and National Committees.
As Business Agent he has represented the members of Local 17 employed at all of the companies Local 17 has contracts.
He currently represents members employed at UPS Package, UPS Freight, Meadow Gold Dairies, and the Movie industry drivers.
Over the last 14 years he has negotiated numerous contracts including, Acme Warehouse, Cook-McCann Concrete, Meadow Gold Dairies, Keebler Snacks, Laidlaw Bus, Menlo Worldwide, and numerous movie industry agreements. He has also been a member of the UPS Central Region negotiating committee and the UPS Freight national negotiating committee.
Duane has been involved in many Local 17 organizing campaigns, educational seminars, and membership activities. And, has dedicated himself to representing the interests of the members of Teamsters Local 17 in every way possible.
---
Chris Rodriguez is a thirty two year member of Teamsters Local 17. Chris started in unload and preload at United Parcel Service as a Christmas hire and was ultimately hired on as a full-time driver.
Chris was appointed Steward at the Colorado Springs UPS Center in 1989. In 1992 Chris was elected as a Trustee for Teamsters Local 17. In 1997 he was hired as a Business Agent for Teamsters Local 17 and was appointed the Business Agent for the members in the State of Wyoming after Teamsters Local 17 acquired Local 307 (Wyoming) through a merger. Chris has been the Business agent for our UPS members in the State of Colorado and has sat on grievance committees at the State, JAC and National levels.
He has, also, been appointed to the UPS Central Region, UPS-CSI and UPS-National Contract negotiations during his entire service to Teamsters Local No. 17.
Chris' duties include all of UPS in the state of Colorado.
---
Ed has been a Steward, Business Agent, Organizer, IBT Representative and Principal Officer.
He has served many leaders in his 36 year career and has strived to improve the quality of life of Teamster families and those seeking to be a part of the Teamsters.
Ed has come full circle and is now working for a Teamster Local that has a strong uniting vision for the future of working men and women in Colorado and Wyoming.
He proudly serves Local 17 as the Vice President and Business agent for the City and County of Denver.
Ed works tirelessly to continue organizing the unorganized and represent the members of Local 17 with a passion that cannot be dampened by critics and anti-labor groups.
Ed says "I work for the members, and it is the members I serve."
Ed's duties include representation for all of the Denver Public employees.
---
Dick Kent joined Teamsters Local 17 in 1996 when he hired on at Emery Worldwide Air Freight. Emery Worldwide became Menlo Logistics, which was then acquired by United Parcel Service in 2004. It is now known as UPS/CSI; the large air freight, ocean and two-day deferred trucking service for UPS.
Dick has served as the steward for his shop since 1998. He served as Sergeant of Arms for Local 17 and the Activities Co-Chairman. He was appointed Trustee by the Executive Board of Local 17 in 2008. He was re-elected as a Trustee in 2008, 2012 and once again in 2016. In 2016 he was appointed to the current position of Recording Secretary.
---
John began his career in the Teamsters union in 1970 when he began work with Consolidated Freight. John left Consolidated Freight in 1974 and began work with Yellow Freight.
John has been with the same company since then and has seen Yellow Freight merge with Roadway Express to become YRC Freight.
John has always been active with Local 17. He remains a long standing shop steward and serves today as a Trustee.
---
Kevin has been a Teamster since 1987 and his roles have involved; working as a package car driver for 11 years at UPS, a vacation coverage feeder driver from 1993-1997 (including various runs across the state of Colorado), a feeder driver for UPS 1998-present, and a shop steward from 1999 to present.
Kevin works out of the UPS facility in Silverthorne, CO.
He has attended several functions for Local 17 including the 2003 - 100th year Teamster Celebration, the 2006, 2011 and the 2016 Teamster Conventions and several Unity Conferences.
Kevin continues to serve as a shop steward for the UPS members and a Trustee for Local 17.
---
Ron joined Teamsters Local 2004 in as an electrician for the City and County of Denver. Ron is a retired Denver Police Officer. His first position was steward, then an assistant business agent and organizer for Local 2004, and representing the City and County of Denver employees. When Local 2004 merged with Local 17, Ron became the chief steward for the Public Service workers.
Chief steward for City and County of Denver at Local 17 members. Ron is also a member of the CSA Rules Committee, an organizer for the Teamsters Law Enforcement League, was active in Local 2004 organizing and also for Local 17.
He remains a chief Steward and serves as a Trustee for Teamsters Local 17.
---
Page Last Updated: Sep 19, 2016 (19:12:05)